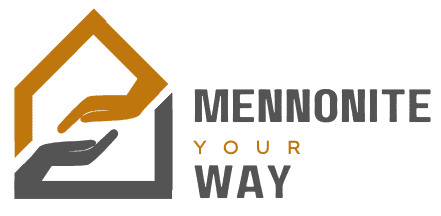 Mennonite Your Way's History
In 1976, Leon and Nancy Stauffer introduced the world to the first Mennonite Your Way Directory. The Stauffers started the adventure as a labor of love to the greater community of believers. In 2000, when the Stauffers published their last Directory, Nancy was quoted saying: "When we did the first directory, we had a very narrow vision. But people have used them for so many things." Through MYW, people have found fellowship, beds, and breakfast. They also found doctors for sick kids, car repairs, long-lost college friends, and, in one case, a mate.
It was shortly after the first directory became available that a student from Phoenix, Arizona attending Bethel College in North Newton, Kansas introduced Jay and Glola Basler to Mennonite Your Way. The Baslers remember how reluctant their oldest son David was when they started out on their first MYW adventure. They stayed with some nice folks in Markham, Ontario during a family trip to Canada. The quality of life and gracious hospitality of these hosts caused David to ask if there weren't some MYW hosts they might also visit on the way home. 25 years later, in 2001, Jay and Glola Basler took over the publication of the MYW Directory from the Stauffers. Jay and Glola were Presbyterian (Jay was a Pastor), but they had Mennonite roots in their family lineage. Jay and Glola faithfully served the MYW community for years, right up to the passing of Glola in 2018. It was much more than just a source of income for Jay and Glola. It was a ministry. The final Directory published by the Baslers in 2020 became a full family affair, with the entire family pitching in to make it happen. At the time, Jay had four grown children, twelve grandchildren, and two great-grandchildren.
In 2021, Jeff Burkholder contacted Jay Basler to see if there was potential to collaborate, unknowing of the Basler family situation and their desire to step back from MYW. When Jeff & Whitney learned of this opportunity, they teamed up with a family from their church, Cameron and Victoria Weaver and together they finalized the acquisition of MYW in October 2022. MYW underwent a rebranding with a renewed focus on engaging all generations.